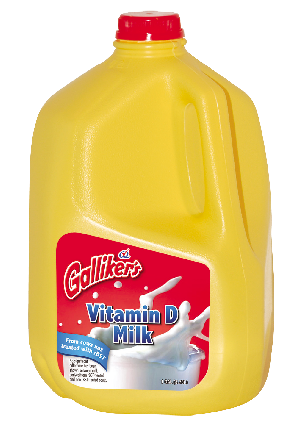 Galliker's was one of the first dairies in the country to offer milk in containers specially designed to block nutrient-depleting light rays. Our trademark Lightsafe Yellow Jug is trusted by parents committed to giving their kids the most nutritious milk available.
Did you know that four hours of light exposure can cause milk to lose up to 20% of its Vitamin A? In a typical dairy case, over half the milk remains there for more than eight hours. Other brands package their milk in transparent plastic jugs that allow consumers to see the milk's white color. Unfortunately, the same jugs also let light in, depleting the level of crucial nutrients and allowing a rapid light induced oxidation that results in an off flavor.
Our Lightsafe Yellow Jug is completely opaque, blocking harmful light rays from ever reaching your milk!